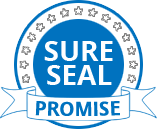 Worried your door won't seal properly or that you'll order the wrong gasket when installing yourself?
We have the perfect answer – complete peace of mind. If you ordered the wrong gasket, we'll replace it at no additional cost. You don't even pay for the return shipping of your incorrect gasket. You only pay if there's a difference in price!
Frequently Asked Questions
How long does it take for someone to come out and look at my coolers?
How long will it take for new gaskets to get installed?
What if my door is broken or sagging and the gasket won't seal?
Do you do more than just gaskets?
What is the first step to getting my gasket quote?
CUSTOMERS THAT TRUST US
"You guys are always so responsive when we call in. We rarely have to wait more than a day to see someone. This service is so convenient and easy - I definitely recommend using Gasket Guy!"
Susan
Subway
"Gasket Guy is so easy to do business with. Reordering is simple - all you need to do is call your local Gasket Guy and read them the part number on the gasket."
John
Red Lobster
"Very knowledgeable team. I had a walk-in cooler door that we just couldn't get to close and seal right. With minimal kitchen interference, Gasket Guy had the door closing perfectly."
Jessica
Starbucks
BRANDS THAT TRUST US